When you enter a casino, you know you are entering a world of chance, luck and deceit. You know that the casino doesn't give cash away for free. They are a business that wants to generate a profit. You can play the games, try to beat the casino, but you know the odds are not in favor.
However, gambling has made it way out of casinos into the online realm. I'm not just talking about online poker, bingo or sports betting. Nowadays gambling mechanics pop up in places where we not immediately expect them. So much so, that I think that gambling has become a serious threat to the well-being of many young people and children.
We can find gambling mechanics in betting on Bitcoin and stock trading. In this article, I would like to expose some of the sneaky tactics that game developers use to promote gambling. Due to lootboxes and other gacha mechanics, some kids lose hundreds of dollars, just to get the virtual item that they want.
Loot Boxes in Video Games
I want to talk to you about loot boxes.
Loot boxes are a gambling mechanism that is more and more commonly found in video games.
It works as follows: When you play the game, you will receive virtual gift boxes which you can unpack to unlock a randomized item. You can also use real money to buy these gift boxes, with more expensive gift boxes giving you better odds at receiving the item you want.
You can find these loot boxes in many online games nowadays. Games with loot boxes and in-game currencies are also known as gacha games, named after the Japanese word for toy vending machines.
From the stupid farming games that your aunt plays on Facebook to AAA-games from your favorite developers. Call of Duty, Battlefield, Overwatch, League of Legends, Rocket League, Street Fighter, Madden NFL, NBA 2K-series, the FIFA series, the list goes on.
Let's take FIFA as an example.
FIFA Ultimate Team
In 2009, FIFA introduced a new online game mode called FIFA Ultimate Team (FUT). Since then, this has become the most popular game mode among players. In this game mode, every player has to build his own team from the ground up. By playing tournaments and winning matches, you receive points that you exchange for Player Packs.
Every pack will give you anywhere between 12 to 30 players. In that sense, these packs are reminiscent of those collectable Panini trading cards that were incredibly popular in the 70s and 80s.
In FIFA, the players and items you can win, vary in skills and abilities. Good players are more scarce than mediocre players. Before opening a pack, you have no idea which players or items you will get. But the more expensive the pack, the higher the likelihood of drawing a good player.
Sometimes you're lucky. Other times, you will have to wait to buy another pack.
Every purchase of a pack is a gamble.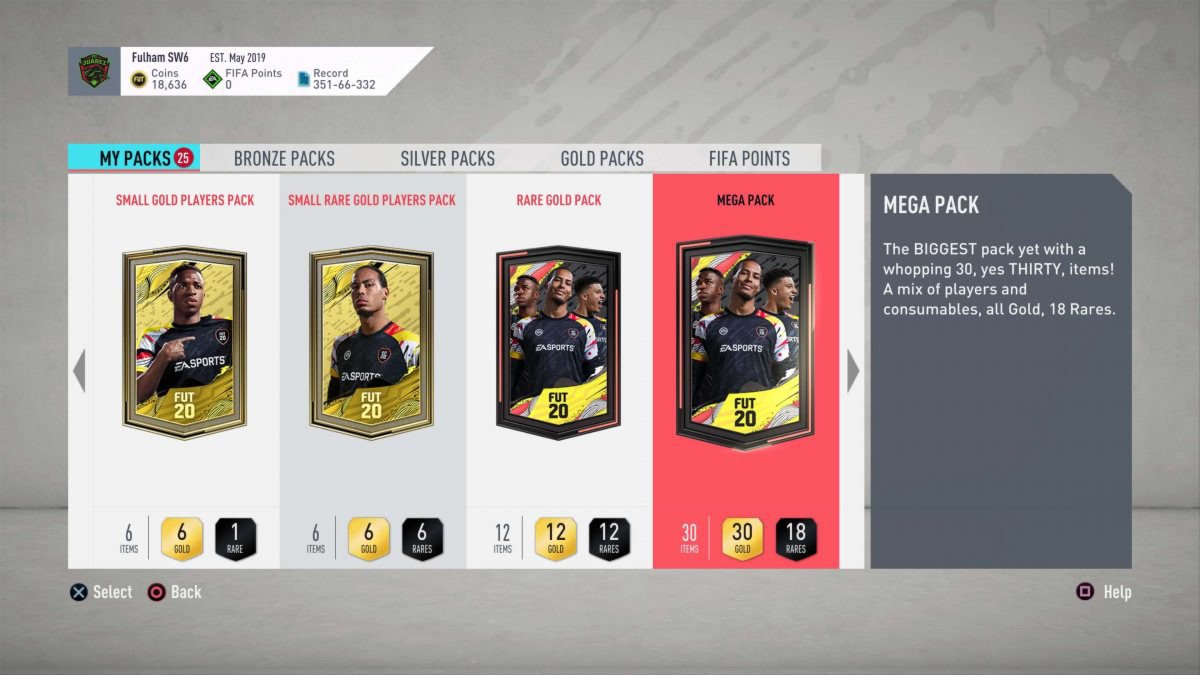 How gambling mechanics justify spending money
Now, imagine the same FUT store without gambling mechanics. That there was just a store where you could pay 1 dollar to get Timo Werner on your team, and 50 dollars to get Messi on your team. Not many players would pay 50 dollars, just to play with Messi (on top of the 70 dollars they already paid for the game). There would be outrage. Players would create petitions to say how it is unfair that EA turned FIFA into a Pay-to-Win game, and how it creates an unfair advantage for people who are able to spend more money.
But this is exactly what is happening.
Virtual scarcity
The 'random' probabilities and luck factor conceal the fact that EA made it really expensive to have Ronaldo on your team. They've invented their own virtual scarcity. So much so, that receiving a good item is a true spectacle. They create an "unpacking experience" with a sleek video, flashing lights and sounds, to cover up that you need to pay more to get better players. Every gold player feels like you have won the lottery.
It's the stuff kids brag about in school yards. YouTube videos that show someone unpacking 100 packs are incredibly popular, with over millions of views. Even professional football players spend ridiculous amounts just to get to play with themselves.
In FIFA, I mean.
Loot boxes are a lucrative business
EA: It's in the trade
As EA has shown with other franchises (Star Wars, Need for Speed, The Sims, and many, many more), money is more important than gameplay. EA is no longer a developer and publisher in the best interest of gamers. They are a company listed on the NASDAQ stock exchange with shareholders that strive for profit. Over the past decade, they have mastered the electronic art of jiggling money out of the pocket of kids and adults.
How much EA earns from FIFA Ultimate Team
Of all the franchise titles that Electronic Arts owns, the FIFA series is the most profitable. The most-played online game mode is FIFA Ultimate Team (FUT), which is not coincidentally where most of the gambling mechanics are used. And you will be shocked by how much EA earns from FUT alone. In total, EA earned $1.49 billion through FUT in 2020. That is an increase of $120 million compared to the previous year, which may be partly due to the pandemic. The total turnover of the company – meaning all of Electronic Arts – was $5.5 billion. So a shocking 27% of EA's total turnover comes from FIFA Ultimate Team. Incredible numbers, and you can imagine why EA won't take steps that would reduce their earnings.
27% of Electronic Arts' entire turnover comes from FIFA Ultimate Team.
Free-to-Pay Games
In light of the success of Fortnite, FIFA Ultimate Team and Overwatch, many game developers made the decision to make their games free. Even FIFA's only competitor, Pro Evolution Soccer has a free version. Not for charity, but because have developed a similar game mode with gambling mechanics. They don't mind giving the game away for free. They know that you will spend more money inside the game on special players, items and other advantages.
"Remember kids, you don't have to buy anything. We will just make every match unfair, because the your opponent was willing to pay 50 dollars to get Ronaldo on his team. Have fun!"
Be(come a)ware of gambling
We should prevent that gambling mechanics become embedded in more aspects of society. We can start by raising awareness.
First, become aware of the gambling mechanics in the games you play or trades you make. If there are any, pick up a piece of paper and write down on the left side how much money you have spent or lost, and on the right what you have gotten in return. It could be that you bought three FUT-packs, spent 15 dollars and only got Timo Werner. Yes, I can understand why you would feel screwed.
Take a realistic look at the games that you play. See if you recognize in the seven signs of a gambling addiction. And whenever you hear kids talk about packs, items or drops, try to explain them, or their parents, how the game is designed to make you spend more.
We need to put a stop to shady gambling practices.
There's a lot at stake.
List of Games with Loot Boxes
Below is a list of games that have gambling mechanisms, or so-called gacha, in order to obtain items. This list does not include every game, unfortunately there are more games with gacha out there.
Animal Crossing: Pocket Camp
Apex Legends
Asphalt 9: Legends
Assassin's Creed Origins
Battlefield
Call of Duty: Black Ops 4
Call of Duty Mobile
Call of Duty: WWII
Counter-Strike: Global Offensive
DotA 2
FIFA-series
Forza Motorsport 7
Gears of War 4
Halo 5: Guardians
Hearthstone
Kingdom Hearts χ
League of Legends
Madden NFL
Magic: The Gathering
Mario Kart Tour
Mass Effect 3
Middle-earth: Shadow of War
Modern Combat 5: Blackout
NBA 2K-series
Need for Speed Payback
NHL
Overwatch
Paragon
PlayerUnknown's Battlegrounds
Pro Evolution Soccer / Winning Eleven
Rocket League
Star Wars Battlefront II
Street Fighter V
Team Fortress 2
The Division 2
UFC
by FreshSaga
Trading platforms exploit many of the tactics that are usually found in casinos. It this article, I want to talk about the similarities between Bitcoin trading and betting, why cryptocurrencies are so appealing, and how you can tell you're addicted to the trade.
by FreshSaga
In the beginning of a gambling addiction, the losses are low. But gradually, stakes become higher. Combine that with a distorted perception of the value of losses and an overestimation of chance, and the gambler loses more than intended. Or more than someone can afford.