When you enter a casino, you know you are entering a world of chance, luck and deceit. You know that the casino doesn't give cash away for free. They are a business that wants to generate a profit. You can play the games, try to beat the casino, but you know the odds are not in favor.
However, gambling has made it way out of casinos into the online realm. I'm not just talking about online poker, bingo or sports betting. Nowadays gambling mechanics pop up in places where we not immediately expect them. So much so, that I think that gambling has become a serious threat to the well-being of many young people, particularly males.
We can gambling in video games, but also trading platforms exploit many of the tactics that are usually found in casinos. It this article, I want to talk about the similarities between Bitcoin trading and betting, why cryptocurrencies are so appealing, and how you can tell you're addicted to the trade.
Pushing Coins
My mother will never play online poker or bet on a football match. She's not much of a gambler. But there's one type of gambling game that we both love to play. Whenever there is a fair in town, you can bet that my mom will stop to play the coin pusher.
We would not just pick any machine. We carefully study all the machines before we start playing. Some machines have colorful Jackpot tokens, and we would pick the machine that has the most coins and tokens close to the edge. My mom is not playing around, she comes to win.
If you are not familiar with the game, the machine works like this:
You would throw in a small coin or chip, and grativy will let the coin drop through a maze onto a plateau with hundreds of other coins. If you drop the coin at exactly the right moment, it will start pushing some coins off the plateau. These coins will be your winnings. Or it might happen that no coins would drop at all, so you insert another coin. The goal is to make more coins drop than you put in, but that's quite a challenge. You might 'have a feeling' that your coin will do well, or think that inserting it faster will help, but in the end it's a game of luck.
And of course, those games are rigged by machine owner, so they can earn a profit. But I do not want to accept that fact, neither does my mom. And sometimes, when the odds are in our favor, we walk away with a few more coins in our pockets. But even in the worst case, we would never lose more than 20 euros. It could be worse, at least we had an hour of fun.
And yet, we are not gambling addicts.
Gambling Protection Laws
At casinos, there are strict policies in place to protect players against gambling addiction. Croupiers, bartenders and advanced surveillance systems keep an eye on each visitor, to make sure that the roulette doesn't turn Russian. If you don't take this plight seriously, you might lose your license. Bad luck, your casino will get shut. You cannot just build a legal casino where these protection policies do not apply.
At home stock exchange
However, gambling has made it way out of casinos into the online realm. And on the internet, the protection policies for online players are not up to the same level. Most of these games can be played without supervision. And partly due to the pandemic, much of the gambling happens behind closed doors, at home.
Bitcoin Gambling
If you happen to go to the park and sit next to a group of guys in their late 20s or 30s, pay attention to their conversations. I would bet 50 dollars (ha) that at least one of them will bring up Bitcoin, Ethereum or one of the million other cryptocurrencies.
Don't get me wrong, block chain and cryptocurrencies have a tremendous potential to fundamentally change things in our world. But that's not what these guys will talk about.
Their conversation will be about anticipating buying or selling their coin. They've seen the crazy graphs, and they stepped in when Bitcoin was at 5,000.
Which was not the peak.
Bitcoin will only go up, right?
Right guys, you also believe it will rise further and make us all wealthy millionaires.
Please guys. Reassure me.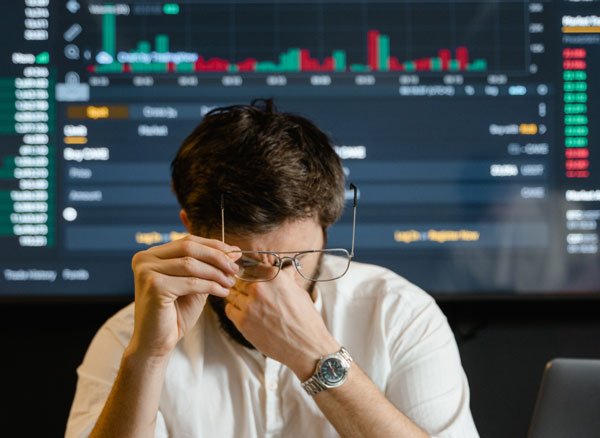 I ♡ Volatility and Probability
There's something to Bitcoin and other cryptocurrencies. Compared to traditional stocks, cryptocurrencies are extremely volatile, which is a economic's way of saying going up and down really fast.
"Honey, I won't be home tonight, Sandy from Finance wants to show me her volatility."
– "Alright babe, I'll tell the kids."
Their volatilty is also why it is so appealing to trade cryptocurrency. You don't have to wait years for to get some dividend. Buy a Bitcoin and with some luck, you could double your stake within a few months.
And god, does it feel good to have a Bitcoin.
Bitcoin accounts for 0.69% of the world's total electricity consumption.
Annually, this would mean that Bitcoin mining and transactions consume more energy than the entire nation of Sweden or the Netherlands did in 2019.
– University of Cambridge Centre for Alternative Finance (CCAF).
How much is Bitcoin really worth?
Realistically speaking, owning a Bitcoin is nothing more than the chips you receive at a casino. With Bitcoin you can play all the games within the cryptocurrency realm. You can play some Ethereum, Litecoin or go wild and play some Dogecoin. But Bitcoin is nothing in real-life society. Just like your chips are worthless when you take a step outside the walls of a casino. You cannot pay with them at the grocery store. Stores that accept Bitcoin are very rare. Cryptocurrencies represent a certain value, but it doesn't become that value unless you convert it to cash and use it to buy stuff.
When does gambling become an addiction?
Gambling becomes an addiction when someone loses sight over the implications of his losses.
A gambling addict goes through several stages. In the beginning of a gambling addiction, the losses are low. But gradually, stakes become higher, with a distorted perception of the value of losses and an overestimation of chance, will make the person lose more than intended. Or more than someone can afford.
And like any addiction, it can have serious implications for the rest of your life. Some put so much at stake that they lose their partner, car or house.
Become aware of your gambling
First, become aware of the gambling mechanics in the games you play or trades you make. If there are any, pick up a piece of paper and write down on the left side how much money you have spent or lost, and on the right what you have gotten in return. It could be that you deposited $2000 to Coinbase,
Take a realistic look at the games that you play. See if you recognize in the seven signs of a gambling addiction. And whenever you hear friends talk about their profits in cryptocurrencies or stocks, try to get a realistic picture of their expenses and winnings. Create an environment that doesn't push each other to buy more. Don't only focus on the profits, also tell about your losses. It could be that one of your friends is losing way more than he's telling. Help him.
There's a lot at stake.
by FreshSaga
Of all the franchise titles that Electronic Arts owns, the FIFA series is the most profitable. EA has earned $1.49 billion through it's online game mode Ultimate Team in 2020. That accounts for 26% of the entire company's income. Take a guess, which game has all the gambling mechanics you ever think of?
by FreshSaga
In the beginning of a gambling addiction, the losses are low. But gradually, stakes become higher. Combine that with a distorted perception of the value of losses and an overestimation of chance, and the gambler loses more than intended. Or more than someone can afford.