As we live our daily lives, we tend to forget the bigger dreams we keep inside. We all want to live the life we desire, but sometimes we lose sight of where we want to go. Do you know who you want to become? What is the life you desire for your future self? If you want to know if you are still on the right track, try visualizing yourself three years from now.
Visualize Your Future Self
A lot can happen in three years. You can live elsewhere, get a new job, find a (different) partner or get bingo at an elderly home and win a new bicycle. We don't have control over everything that will happen to us, but visualizing your is ideal self can guide you in future decisions.
How To Describe Your Future Self
This Future Vision Generator will guide you in envisioning the life you desire. You will answer some questions about yourself three years from now. The Future Vision Generator will turn this into a magical fantasy story. Your future sure looks magical 🙂
What if you could step into the own shoes of your future self?
Describing your future will help you get a clear vision. This will make it more likely that you will achieve your personal goals. It serves as a reminder of who you were vs. who you want to be. It's the little kick in the buttocks to keep you heading in the right direction.
A set of directions that you wrote yourself; a personal map on your quest for treasurable moments. The description of your ideal self is the guide that keeps you on track. And it may also keep you from making wrong moves.
Writing about your future will trigger all kinds of emotions. You might feel hopeful, inspired or even a little scared. If this is your first time writing about future goals, you might struggle or feel discouraged.
Do you feel stuck?
Thinking about self-improvement is maybe not something you do every day. It can be confrontational to look in the mirror. Presenting yourself a reality check, pretty daunting. If you dream big, there is a fair chance you feel like you are failing.
But don't worry. Nobody reaches all their goals within three years. Everyone struggles.
The interactive assignment you find above, will help you put your future on paper. You will answer a set of questions and you may skip questions that you don't know how to answer. But nonetheless, you will get a glimpse of the future you want for yourself.
I'd love to read the stories you've created. Share them through DM or hit me up on daniel@freshsaga.com
~ Daniel from FreshSaga
What is something you always want to keep in mind?
Some decide to put it on their body, with the tattoo being a constant reminder. But instead of your upper calves, you may also try out this digital writing assignment. You will be guided to write about your future self in three years from now. It will help you visualize how you want your life to be like.
What does your life look like three years from now?
Close your eyes and imagine:
What do you do on a daily basis?
What new habits did you form?
How's the relationship with your family and friends?
What would people compliment you with?
What is your favorite pastime?
Set a Reminder Three Years from Now
Oh man, three years from now, you will read back that story you wrote. It takes you right back in time, to this very day. You will see how much you've changed since then. You might come to realize that you achieved everything you desired. Your vision became a reality… or maybe your life took a whole different turn. You will find that not everything is within your control. Plans change as we adapt to new situations. Whether it makes you laugh or cry, it will definitely be a memorable experience.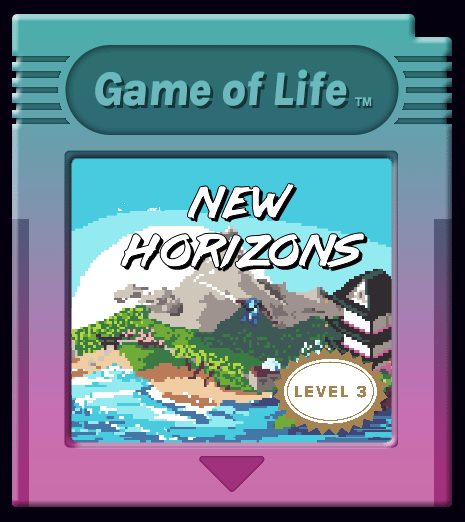 Play Level 3: New Horizons
In the third level of The Game of Life, a brand new day has arrived.
Your vision has been clouded for too long. Pick a new destination for your journey and set sail to your desired future!
by FreshSaga
It has never been easier to compare ourselves with other people. Seeing people more successful than you, is likely to leave you with feelings of inferiority. But you can turn this feeling into fuel for a pursuit of superiority.
by FreshSaga
In a world with so many characters, it is easy to forget that you have one yourself. In this interactive story, you will uncover your moral compass and reveal your personality.