Do you ever feel caught in your own house and feel like you really need to get outside? It is almost as if your mood sinks the longer you stay at home. Going for walk in open air then seems to work wonders.
Buildings are a human invention, and while protecting ourselves from weather conditions certainly has its merits, perhaps we should consider what other effects are at play when we spend most of our times indoors. Humans are not built to spend the vast majority of their time indoors. We have found all sorts of ways to make life inside buildings more bearable, but that doesn't change the fact that humans are not built to spend the vast majority of their time indoors. If we stay in for too long, all sorts of ailments can come up. There is even a term coined to address these specific issues: Sick Building Syndrome.
Sick Building Syndrome
Sick Building Syndrome describes how symptoms like headaches, dizziness, runny noses, itchiness can be attributed to the building where someone works or lives. And it's not just because that person hasn't dusted their desk in months or that there is mold on the pans in the sink. Some illness symptoms are caused by poor indoor air quality. Many office buildings have no or few windows that can be opened, with the temperature being maintained entirely by an air conditioner. And since most of us spend up to 90% of our time in buildings, this is something to consider.
Outdoor air quality has also deteriorated drastically in recent decades, especially in cities. Needless to say, this is mainly due to the burning of fossil fuels and wood. Our energy consumption has grown substantially, due to a growing number of vehicles, further industrialization and more people being able to buy polluting products.
Atmospheric Ions
But there's another unseen equilibrium that might explain Sick Building Syndrome: the balance between positive and negative ions.
In our buildings and cities, there is a low concentration of ions in the air. While in nature and rural areas, numerous sources of ions can be found. This had led some researchers to investigate the effects of ions, and whether positive or negative ions are beneficial to human health. The hypothesis is usually as follows: a higher amount of negative ions in the air will improve our well-being.
(So don't be put off by the term negative ions throughout this article, the effects should actually be very positive!)
What are negative ions?
Atmospheric ions, or air ions, are electrically charged molecules or atoms in the atmosphere. An air ion is formed when a gaseous molecule or atom receives sufficiently high energy to eject an electron. These ions are always created in pairs — a positive and a negative ion.
Almost from the very first detection of air ions in 1889, there has been speculation about possible hygienic, physiological, or other types of effects on humans. The premise was always: positive ions make us feel bad and negative ions will make us feel good. Negative ions were thought to improve air quality and possibly even boost our immune systems.
Negative air ionization reduced respirable and inhalable dust counts by 46%. Inside a small glass chamber, negative ions removed 93% to 97% of the particles from fog and smoke within six minutes.
Ions may not be visible to the naked eye, but they are all around us. However, ions do not live forever. They recombine with oppositely charged ions, they combine with aerosol particles, and they plate out on surfaces. So to keep a high ion concentration in a given volume, ions have to be constantly produced. We need to find an ion generator.
Where can we find negative ions?
Fortunately, negative ions are present in abundance in nature. In fact, there are some processes that constantly create atmospheric ions.
One of those processes are cosmic rays. These are rays of highly energetic particles that originate from outside our Solar System, and sometimes even the Milky Way. When these rays collide with the Earth's atmosphere, their energy transfer create ions. Most of the ions created in this process stay in the upper atmospheric layers of earth, but cosmic ray ionization still accounts for around 20% of the total ionization over land surfaces.
Also the isotopes of radioactive elements, such as uranium and thorium, and their decay products (e.g. Radon) generate ions 1. As these elements are found on land, they are an important local ionization source. The prevalence of these radioactive elements varies from place to place, thus also the amount of ions they produce.
But before you book your ticket to Chernobyl to indulge in all the magical healing powers of negative ions, it's good to know that you can also look closer to home. Waterfalls and crashing waves also generate up to tens of thousands of ions per cubic centimeter. As water droplets collide with each other or wet surfaces at high speed, they form a fine spray full of negative ions that are transferred to the air around it. This phenomenon is called the Lenard effect, named after Nobel Prize winner Philipp Eduard Anton Lenard.
Misty forests also tend to have higher levels of negative ions, which is also attributed to negatively charged water droplets.
Thunderstorms are also a source of negative ions at ground level. When lightning strikes, water drops in the cloud become negatively charged and fall to the bottom, while positive ions are swept upward to the top of the cloud.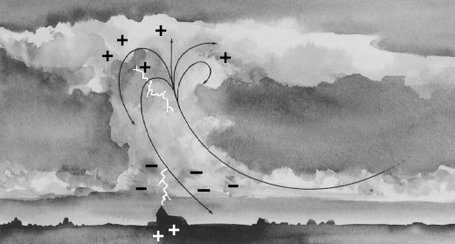 How can you create negative ions in your home?
If negative ions have a positive effect on us, this might explain why we feel so good sitting beside a waterfall or taking a walk through a forest at dawn. And it might also explain why we feel worse indoors, because our walls and ceilings shield us from cosmic rays and natural radioactivity. But it's not like you can ask your boss to let you work from the nearest waterfall from now on. Surely there must be ways to improve the atmospheric properties inside our homes and offices?
Fortunately, there are. And these indoor solutions also make it much easier for scientists to conduct experiments, to see if negative ions actually have the positive effects ascribed to them.
Air Ionizer
Air ionizers (or negative ion generators) are devices that use a high voltage to electrically charge air molecules. The airborne particles are then attracted to any nearby grounded conductors, which could be specially designed plates within the device, or simply on nearby walls and ceilings. This will remove particulates, microbes and odors from the air, which is why air ionizers are commonly found in air purifiers.
Especially since the SARS epidemic, air purifiers with ion generators have become popular in East Asia. You will see a device similar to a mobile air conditioner in many households. But Japan wouldn't be Japan if they took that one step further. You can find all kinds of appliances with ion generators in Japan, from refrigerators, washing machines, bed sheets, menstrual pads and yes, toothbrushes.
I don't know about those toothbrushes, but most air ionizers work, producing a significant amount of negative ions.
But before you run to the shop to score an ion-generating washing machine, I must first outline a major drawback. In addition to negative ions, these devices also produce ozone. You may know about this element from the ozone layer, or as the main component of smog. In other words, air ionizers are producing smog in your living room.
Not only does this give off an unpleasant smell, but in high concentrations ozone is very harmful to our health. Exposure can affect our lungs and the area of the brain involved in our sense of smell. Studies on negative ion generators show that some exceed the guidelines for ozone levels, when used in small, non-ventilated areas. Quite the health risk.
So if you decide to buy a air ionizer, keep an eye out on its ozone emissions.
Himalayan Salt Lamps
Himalayan salt lamps are crystals carved from amber-colored rock salt, hollowed out to fit a lightbulb inside. When you light them, they give out a warm, reddish-pink glow. But supposedly, these lamps will do more than just light up your room. The lamps would improve your mood, sleep, breathing and clean the air. Advocates of these salt lamps will tell you that this due to the emittance of negative ions.
The idea behind this process is as follows: water molecules from the air would be attracted to the lamp, and then evaporate from its hot surface, releasing chloride ions into the air.
Scientific infotainment channel Veritasium on YouTube decided to put this to the test. After buying a salt lamp from a store, he used a dedicated machine to measure how many negative ions came off from the lamp. Despite letting the lamp heat up for over an hour, he was not able to measure any negative ions coming off the salt lamp.
And so far, no other credible research has been able to prove the health benefits of salt lamps, so don't bother buying one. Unless you just really like their aesthetics, of course.
Tourmaline
However, there is a crystal gemstone that is able to generate negative ions: tourmaline.
For tourmaline to give off ions, it needs to be activated. Tourmaline has both pyroelectric and piezoelectric properties, meaning that is becomes electrically charged under heat and pressure. A five degree temperature increase or squeezing a piece of tourmaline by hand is enough to generate ions.
There is an obvious reason why tourmaline crystals are not that commonly found in living rooms as salt lamps. Neon blue tourmalines from the Paraiba mine in Brazil sell for about $16,000 per carat, compared with about $6,000 for diamonds. Tourmaline also comes in other, less rare, colors for lower prices. It is yet to
Ionic bracelets
Tests showed that these bracelets will indeed generate up to 2,500 negative ions per cubic centimeter. But unfortunately, not only negative ions. Some of the ionic bracelets turned out to contain radioactive thorium or uranium, as their main method of ion generation.
The radioactive emissions of the wristbands are not incredibly high, so you don't have to run whenever you see one in a shop. But the danger of radiation isn't instantaneous exposure, but the total exposure over time. So these radioactive bracelets are not something you want to wear around your wrist 24/7. The Thought Emporium did some tests with a Geiger counter and found that wearing one wristband the entire year, will expose you to 49 mSv per year, which is equal to about four or five full-body CT scans. There is some debate on the effect of low-dose radiation on cancer risk, but epidemiological research suggests an increased risk of cancer already starts in the 10 mSv to 100 mSv range.
Note that that 49 mSv comes from just one wristband. Wearing several of these jewelry items on your body will expose you to even more radiation, and will definitely put you at increased risk of contracting cancer.
Most of these bracelets use powdered thorium dioxide that they weaved into the silicon wristbands. But since the wristband is continuously rubbing against your wrists and other things, these thorium particles will eventually release into the air, waiting for you to breathe them in. This is not an unlikely scenario. Think of when you're wearing the bracelet at night while laying in your comfortable fetus position.
Splashing water
Fountains
A 2006 study in China found that fountains also produce the Lenard effect, with measurable increases in negative ions up to a 20 meter radius from the fountain. They measured negative ion concentrations at 5, 10, 15 and 20 meters from the fountain, and higher levels correlated with a closer proximity. They also found that atmospheric ion levels quickly return back to normal once the fountain is turned off, within 5 to 10 minutes.
Showers
But hey, if fountains work, then every house already comes with an ion generator!
Perhaps this is why we have shower thoughts, in which we can come up with the most fascinating insights and solutions for world peace within 10 minutes in the shower.
You can try it out at home just for fun. Let me know if you are more productive when you sit down with your laptop next to your bathroom stall. Just be careful. Water droplets may be good for you, a little less so for your laptop.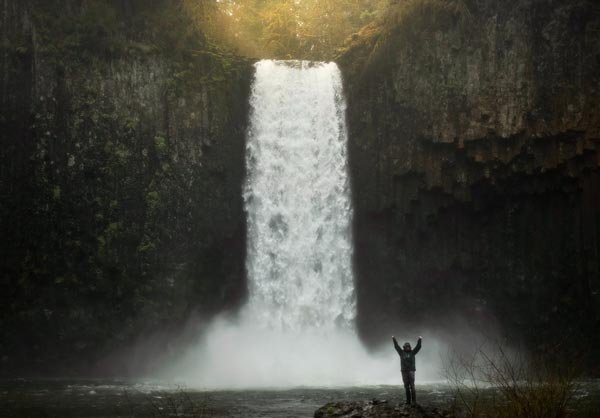 Will Negative Ions Improve My Well-Being?
Ever since the discovery of atmospheric ions in the early 1900s, researchers started looking into possible health benefits. Several studies indicate that negative air ions are linked to reduced depression severity, lower stress levels, less anxiety, and enhanced well-being.
In one real-life experiment, an air ionizer was fitted to the air-conditioning unit in an office building and periodically turned on and off over 12 weeks. When the ionizer was pumping out negative ions, workers reported 50% fewer headaches. They also reported increased alertness, perceived atmospheric freshness, and environmental and personal warmth.
A 2013 meta-analysis study on negative ions and human health looked at 33 of these studies that were performed from 1957 to 2012. They found that there was a significant association between negative ions and lower depression ratings, with stronger outcomes at higher levels of negative ion exposure. Several hours of ion exposure may reduce symptoms of both chronic and seasonal depression. A shorter duration (about 30 minutes) might not be enough to impact people with chronic depression, but may reduce symptoms of seasonal depression. They found no consistent influence of air ionisation for anxiety, mood, sleep, and personal comfort.
Air ionizers are proven to form an effective prevention against airborne viruses, such as influenza. There are even signs that they help remove SARS-2 CoV, the virus that causes COVID-19, from the air. But there is yet little research available that underline this assumption outside lab conditions.
So there definitely does seem to be an effect of ions on our body. Whether you necessarily need to buy an air ionizer for this purpose, I will leave in the open. In any case, salt lamps are a complete waste of money if you are looking for a health boost. But I would definitely advise you not to sit in an air-conditioned room all day, and maybe to go outside more often to enjoy all the healthy things nature has to offer.
Onwards to the nearest waterfall!
More like this in your inbox?
📺 Get a 3-minute insight bite
📄 Key ideas from 2 self-improvement articles
🤯 and 1 eye-opening quote
No advertisements. No spam.