With over 240 million records sold, Eminem is the best performing hip hop artist of all time. For over 20 years, he has been one of the most well-known rappers and influential artists, ever since he released the Slim Shady LP in 1999.
But before Marshall Mathers became the Eminem we know today, he had to go through a turbulent childhood and subsequent periods of depression and a failed suicide attempt.
Raised by a poor single mom
In St. Joseph, Missouri on October 17, 1972, Marshall Bruce Mathers III was born. Shortly after he was born his father left him, after which he was left to his mother. They moved around a lot, and for the most part they lived in the poverty-stricken neighborhoods of Detroit. His mom naturally struggled to provide for Marshall, being a single mom. What followed was a difficult youth, as his mom fell in love with unreliable partners and medical substances.
Marshall and his mom moved numerous times, rarely staying in one house for more than a year or two. That also meant that he had to move schools frequently and never really fitted in. He felt like an outcast and was shy and awkward. He got bullied physically and eventually he dropped out.
Marshall looked for ways to distract himself from the tough situation at home, and found refuge in comic books. At the age of seven, he dreamt of becoming a comic book hero, because then he would be able take on anything and anyone. He came up with his own characters and signed his drawings with his initials: M&M.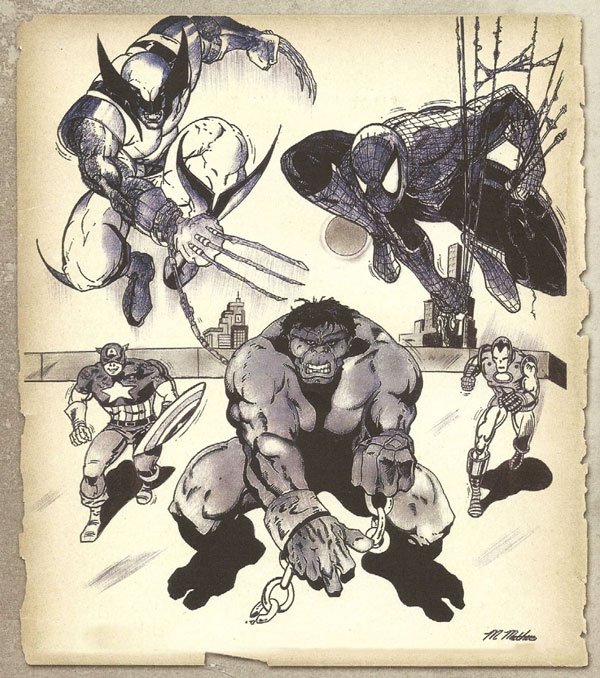 Introduction to rap
His love for rap music began at the age of 11, when his uncle Ronnie showed him how to record a freestyle rap using two cassette tapes. He would press play on the first cassette deck as a beatbox and on the second cassette he would then record his raps over the beat. This was Eminem's first introduction to rap. He took the tape home and played them over and over again.
Later Ronnie brought over the song Reckless by Ice-T and then Marshall started listening to all kinds of rap, from LL Cool J, Rakim and Masta Ace to Beastie Boys, Grandmaster Flash and Tupac.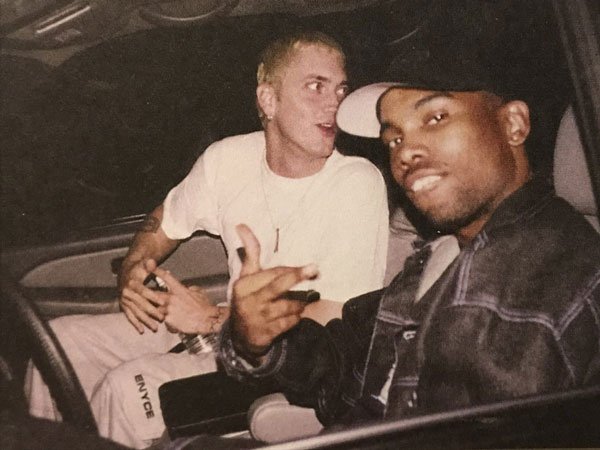 At the age of 14, he met DeShaun Holton, better known as Proof. They kicked it off right away, and he would become his best friend. Proof used to sneak Marshall into the lunchroom of his high school and there he would compete with other kids in rap battles. Everyone would underestimate the rhyming skills of a white boy, so Proof would bet $20 on Marshall and just knew it would be a sure bet. They would split the winnings afterwards.
Proof would later introduce him to more rap contests and he would make a name for himself in the underground rap scene of Detroit. Under his nickname M&M, he would crush almost all of his rap battle opponents.
However, the first time Eminem performed on stage in a club, he got booed off-stage within minutes and went home with his tail between his legs. It took him a long time to get back on stage, but in the meantime he kept rapping and writing lines.
Kim, Hailie and poverty
Together with his high-school lover Kim, he conceived a daughter named Hailie on Christmas Day 1995. Given that his own dad ran off, Marshall made sure that he would do anything to give Hailie a better life than his.
That same year, he scrambled his money together and recorded his very first album, Infinite. On the song It's OK he already talks about the difficult situation he is in:
One day I plan to be a family man happily married
I want to grow to be so old that I have to be carried
'Til I'm glad to be buried and leave this crazy world
And have at least a half a million for my baby girl
It may be early to be planning this stuff,
'cause I'm still struggling hard to be the man, and it's tough
'cause man it's been rough, but still I manage enough
Despite already showcasing Marshall's ingenuity in crafting rhymes, the album did not become a commercial success. Radio DJs in Detroit did not want to play it. Eminem would later say about the album: "It sold maybe 70 copies and didn't get great feedback. I hadn't found myself yet. A lot of people said it sounded like Nas, and he was a heavy influence at the time."
Slim Shady
In search of his own style, he came up with an idea with a group of friends. In line with the villains from comic books, they would all develop their own evil alter ego. Eminem thought of a sinister maniac and called him Slim Shady.
This proved to be the outlet Marshall needed. The Slim Shady character allowed him to say the craziest things and express his anger. He adopted a different, high-pitched voice and his unique style was born.
In the spring of 1997 he records the Slim Shady EP. In stark contrast with his flopped, but clean album Infinite a year before, this EP was raw and full of cursing. On the record, he paints a gritty picture of his relationship problems, drug use, violent thoughts and depression.
Perhaps the most startling track is Just the Two of Us (retitled to 97 Bonnie & Clyde on The Slim Shady LP). After arguments with his fiancee Kim, he decided to enter the recording booth with his daughter Hailie. In the song he describes how together they ditch Kim's body in a lake.
A miserable Christmas
In the underground rap scene, there was quite a bit of buzz about the new EP. But Eminem still struggled to pay for rent and provide for the family.
To make ends meet, Eminem worked for minimum wage at Gilbert's Lodge, a family restaurant 20 miles north of Detroit. His former boss described him as a hard-working employee, often clocking in 60 hours a week to provide for his wife and new-born baby. Nevertheless, he was fired shortly before Christmas:
"It was like five days before Christmas, which is Hailie's birthday. I had, like, forty dollars to get her something."
Years later, he retells this story to his daughter Hailie on the song Mockingbird:
It's funny.
I remember back one year when daddy had no money.
Mommy wrapped the Christmas presents up
and stuck 'em under the tree and said some of them were from me,
'cause daddy couldn't buy 'em.
I'll never forget that Christmas
I sat up the whole night cryin'
Rock Bottom
After losing an important rap battle in Ohio and missing out on the prize money, he went home broke and depressed. That same week Marshall is evicted by his landlord, because one of his roommates ran off with his share of the rent.
Back at the studio, he attempts suicide. He swallows a handful of Tylenol, but ends up puking in the bathroom and feeling incredibly sick. He describes this as being his lowest point in the song Rock Bottom:
My life is full of empty promises and broken dreams.
I'm hopin' things look up, but there ain't no job openings.
I feel discouraged, hungry and malnourished,
livin' in this house with no furnace, unfurnished
And I'm sick of workin' dead-end jobs with lame pay.
And I'm tired of bein' hired and fired the same day.
Introduction to Dr. Dre
In the summer of 1997, Eminem competes in the Rap Olympics, an annual national battle rap event in Los Angeles.
Despite losing the final battle and finishing second, an intern from Interscope Records approaches him after the event. He asks him for a copy of the Slim Shady EP. The intern sent this tape to the CEO of Interscope, Jimmy Iovine. Iovine then played the tape for famous rap producer Dr. Dre. He was immediately impressed and flew Marshall in to sign him to the label.
During the first studio session they created My Name Is, which introduced Eminem and his alter ego Slim Shady to the world, and the rest is history.
Find a way out of misery
I think the lesson to be learned from Eminem's life story is that you should never lose hope. Even if you're depressed and it seems like the whole world is working against you, you have to believe in your own strengths. Keep putting yourself out there and work on improving your skills. Opportunities for a better future can emerge from places you never expect.
Eminem found his solace in rap music, but you may find it elsewhere. There are stories of people finding support in skateboarding, yoga, or even chess. Any hobby can be your savior and get you on a better path in life.
The Way I Am
by Eminem and Sacha Jenkins
The Way I Am is 2008 autobiography by Eminem himself. It details his struggles with poverty, drugs, fame, heartbreak, family and depression, along with stories about his rise to fame and commentary on past controversies. The book contains many photographs, drawings by Eminem and lyric sheets. Definitely a must-have if you want to learn more about Marshall's life in his own words.
8 Mile
a 2002 movie
The movie 8 Mile tells the story of Jimmy 'B-Rabbit' Smith (played by Eminem), an aspiring rapper with a messed-up life. Loosely based on some of Eminem's own experiences, it shows the rough conditions of a broken family in the poor neighborhoods in Detroit. B-Rabbit must overcome his stage fright and physical intimidations to succeed in a rapping contest. He has one shot, one opportunity to seize everything he ever wanted. Will he capture it or just let it slip?
by FreshSaga
You find yourself lost at sea in the middle of darkness. This makes you think back to your past, when you were still in the safe haven of your parents. You start to wonder: How did I lose track of my direction in life? This interactive story will help you to reflect on your life upon this moment.