The Call to Adventure
August 21, a huge burden fell from Hero's shoulders. After six months of toil, he had turned in his 88-page thesis and successfully defended it in front of his examiners. The grade was not anything remarkable, but the most important thing: he got his bachelor's degree.
He has celebrated properly and enjoyed the late summer evenings, but he also knows that not every day is going to be like that. From a park bench he catches the last rays of summer sunshine, but duty calls.
His phone rings. Right on time, Grandma. I graduated only three weeks ago.
He answers and accepts the belated congratulations. And then, naturally the inevitable question comes. "Do you know what kind of job you would like?" He gives her the same story he's been giving to all those inquisitive people for the past few months. Honestly, Hero has no idea yet. But by keeping it vague, using a lot of words, throwing in some office slang every now and then, he manages to obscure his doubts.
Grandma appears to be taking it in too. Then she starts telling him about his father. She remembers when he was Hero's age. His father had not attended college, "that was not the norm in the old days", but has had numerous odd jobs by the time he was 24. But grandma knew, it was a matter of course that he would enter the family business; selling furniture. The choices used to be a whole lot more straightforward.
Jokingly, Hero tells his grandmother that he might also end up working in the family business. And after some more small talk, they hang up. A quick swipe over the status bar reveals a message from Eva. During graduation, they bonded. She is now in Thailand and sends him a picture of a coconut by the pool. "Not much to complain about here. When are you coming over?"
The Hero's Journey is a conceptual framework that can be seen in a multitude of stories, myths and sagas. The narrative of the stories seems to follow a common pattern, where a hero (or the protagonist) goes on an adventure, faces different challenges, overcomes personal crises and returns home as a transformed human.
This pattern is not only visible in fictional stories, but can also unfold in a person's life. That's why I came up with this story, in which I have incorporated some of my own observations and episodes into a fictional story starring a literal Hero. I think many of you are or have been in Hero's shoes, where the expectations of society create a tumultuous adventure that raises all kinds of transformative challenges. Read on to find out how Hero went about his personal journey through life.
Refusal of the Call
Meanwhile it is December, and Hero is still without a job. He has half-heartedly applied for jobs here and there, but basically all the fun vacancies require at least 3 years of work experience. Where the fuck am I supposed to get that from?
It's getting more and more pressing to live at home. Sure, it's cheap and it's convenient that mom cooks food every day. But the walls of the bedroom in his parents' house are beginning to creep up on him. This is not enough space for an adult to inhabit. Besides, he needs more mental freedom. Every time he walks out the door, his mother asks where he is going, who he is going to meet up with, and what time he will be back. This isn't what he imagined for himself after his student life.
Monday night, well after dinner, his father comes in with a sigh. Theo has called in sick and looks like he won't be coming in for the next few weeks. On top of that, Shanice has been sitting at home on maternity leave. Today he spent the entire time running between the sales counter and the wood carving machine and he's exhausted. He's already pretty stressed out, not to mention that tomorrow that customer of 14 handmade desks is coming and the varnish needs to be redone. There are simply not enough hands for the job.
Hero already feels it coming. Mother's eyes make contact, Dad's gaze is now on him too. "Can you maybe fill in tomorrow?"
The work doesn't involve much. The barcodes are already taped on the newly produced furniture, so it's just a matter of scanning and entering the correct amount on the pin terminal. A child of 12 could do it — it's a pity child labor has been abolished.
At the end of the day, his father asks if he had a fun day. He nods, but inside he knows for sure: there must be more to life outside the shop.
That same evening, he cuts the knot. The idea had been playing on his mind for a while, but now it's settled. He will help his father through the busy Christmas period, but then he will follow the footsteps of Eva. He will leave for Thailand on the first Saturday of the new year. Far out of sight of his father and mother. Far from the sight of a boring 9-to-5 in the furniture business.
Meeting with Mentor
Quite the contrast.
Right off the plane, Hero is hit with the intense heat and his back is instantly sweaty thanks to his backpack. This would have been the perfect time for zip-off pants, too bad they haven't been in fashion for 30 years. On the back of the Grab driver taking him to his hostel, Hero feasts his eyes. There are so many people in the streets, and it makes for a huge chaos. Chiang Mai's one-lane roads are occupied by three rows of scooters that shuffle together at the stoplight like Tetris blocks. Crosswalks aren't going to help you here; if you want to cross you're best off doing it with your eyes closed and trust blindly in the driving skills of the locals. It's a small miracle that no one gets hurt.
Although he sleeps in a bunk bed in a 6-person dorm, Hero had never experienced this much freedom before. He has his own little scooter and is now navigating the chaotic Thai traffic himself. But there's also a lot to enjoy on two wheels, especially the lovely mountain roads with breathtaking views of rice fields here and there. Driving gives him a sense of relief, but he wishes he could say the same about the Thai food. The spicy curries are having their effect on his bowels, so today he is staying around the hostel, in range of the toilet and soothing bum gun.
In the common area, he strikes up a conversation with Richard, a 57-year-old man from the Netherlands. He tells Hero that he comes to Thailand for two or three weeks every year. After his first visit he instantly fell in love with the country, but unfortunately his wife did not. But she does allow him those few weeks a year, especially now that the children have long since moved out.
Each trip pulls him out of the daily grind, and he is full of energy when he returns home. That sensation slowly ebbs away and after a few months, he starts to feel this uneasiness again. Then he knows, time to book another ticket. But if it was up to him, he would emigrate to Thailand without hesitation. Hero decides to be bold and ask Richard the question that is burning on his lips:
"Have you ever regretted getting married and having children?"
Richard is silent for a moment.
"Great question…",
as he leans back into the couch,
"and if I have to be honest with you: yes."
He becomes visibly emotional by his own words. It also causes him to churn out some of the valuable lessons he learned in life. He urges Hero not to commit to anything too quickly, but to enjoy these younger years first. Twenty years from now, you will be more disappointed by the things you didn't try than by the ones you never tried.
"You've got a bright future ahead of you, kid." Richard extends his hand to Hero. Between his fingers he holds a necklace with a feather carefully cut from a pearly seashell. "I hope your life will be more footloose than mine."
Hero accepts the necklace and then hurries toward the dorm room. He's held it in for a while, but now it really has to come out: shit.
The next morning Hero wakes up feeling like shit. His sleep has been awful. During the night, the party of three Frenchies had burst in with great clamor. Apparently France had won the football match last night, because they were chanting Allez les Bleus and figured that the light switch could also function as a stroboscope. Luckily, now the room is quiet and the other five beds of his dorm are deserted. Now that peace has returned, Hero decides to take a shower. His hand reaches towards his backpack to take out a pair of boxers, but wait…
This isn't his backpack.
He unzips the top flap, tosses the crusty socks aside and pulls out a book.
Les 7 Habitudes Des Gens Efficaces
by Stephen R. Covey.
Ces fils de putains!
It must have been the French. But just to be sure, Hero checks with the front desk. CCTVs in the room were out of the question, because he was sleeping in a male dorm. But footage from the corridor confirms Hero's suspicion. The three Frenchmen left early this morning and nobody else has been in the room yet.
The Crossing of the First Threshold
Because of the drama that has taken place in Thailand, Hero feels an obligation to his father to pay him back. But instead of joining the family business, he actively started to browse through an online job board. There, his eye came upon the 12-week UberSTAR internship program, in which you will be readied for a full-time job within Uber. The last sentence of the posting reads: Selection Day is on February 1, where 30 applicants will be chosen to become UberSTARS. Hero submits his application without hesitation.
Hero is on the train on his way to Selection Day. He can count the number of times he's been on the train on his hand, so he sits and marvels at the landscapes and houses that race past him at blistering speed. This is in stark contrast to the woman across from him. She is busy calling and working her way through all kinds of papers. During the 45 minute train ride, she has not looked outside for a single moment.
Hero gets off at the station right next to the Uber HQ. The platform is packed with suits – men and women! – rushing for the exit. At the bottom of the stairs, the whole convoy turns right, so Hero just trusts his co-travelers' sense of direction. Once outside the station, he takes a break to take in the view. Giant office towers of steel and glass stretch all the way to the clouds. The workforce moves like a colony of ants in several streams to the various buildings. There isn't much time to enjoy the view. From behind, he is tapped by one of the yuppies wearing Airpods. "Maybe not the most convenient place to stand still, kid," Hero gets told, just a tad too loudly. Must have had his noise-cancellation on.
Hero is not the only one. At the reception about 40 recent graduates are already waiting. A few of them had already seen Hero on the train and they immediately found something to chat about. Then they are quickly led upstairs by three employees from Recruitment and the Selection Day kicks off with a slick presentation about working at Uber. Two of the employees started as interns themselves, and worked their way up to Medior within 3 years. They mention the lease car and the beautiful location. It really feels like a family to work here. The Friday afternoon drinks are also in demand and they talk about how competitive the in-house ping pong competition is. They are obviously proud to work for such an innovative and hip company.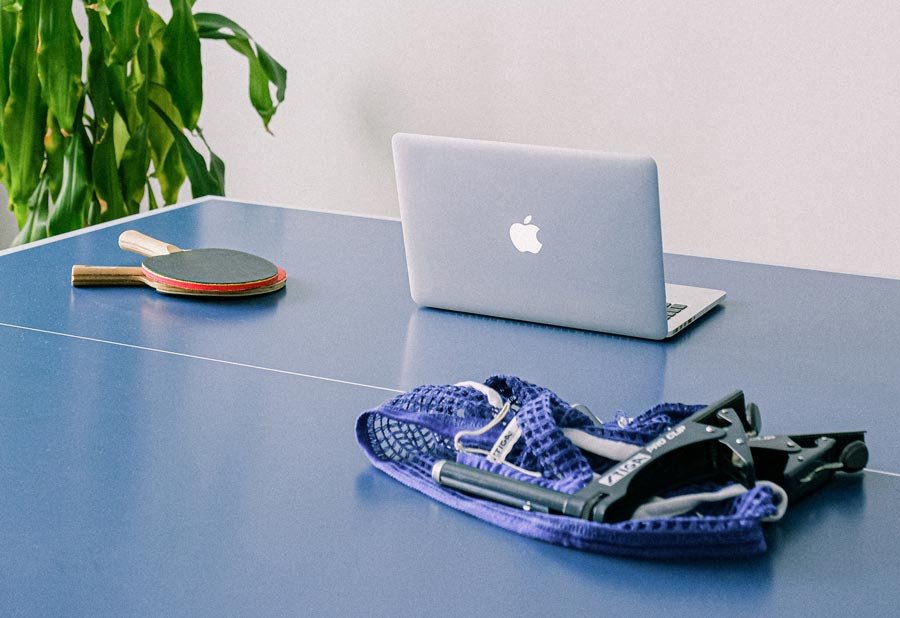 After the introduction, the fresh graduates are put to work immediately. In groups of 4 they each have to prepare a presentation. Hero is not much of a hero with presentations, but luckily he is placed with the diligent Lisa, who gladly takes on the presenting part.
The workshops went very well for his group and afterwards one of the recruiters came over for a chat. Hero and the others all get an invitation to the final job interview. The final hurdle before being hired. With some tips from his father, Hero had already prepared for this moment.
However, the interview did not go quite as he had practiced in front of his mirror. It is different when there are six eyes on you. Besides, they came up with some very odd questions. How on earth do you answer, "If you could compare yourself with any animal, which would it be and why?"
Apparently, a sly fox was sufficiently satisfactory. The contract is laid out in front of him and the details are pointed out.
12 weeks with final review
$500 internship stipend per month
Free MacBook from the company
50% discount on all Uber services
Hero doesn't hesitate for a moment and puts his signature.
Belly of the Whale
His first day of work couldn't have started better. Sonya, the supervisor of new interns, is a bombshell. A head of dark, curly hair, slightly tanned, wrapped in a tight dress that gracefully reaches to her ankles. "I could get used to this," Hero tells her, when he sees his desk with two monitors and a docking station. Sonya smiles at the double entendre of Hero's remark.
A week later, Hero already knows the office like the back of his hand. Jake drinks his coffee with sugar, Gina likes a dash of almond milk and his beloved Sonya prefers it black. Sadly, this also applies to men, given the picture of a Surinamese man on her desk.
The work may not be that challenging, but Hero is having a good time. His duties mainly consist of improving the customer experience, reporting the Net-Promotor Score, data entry, printing things. The weeks go by in no time.
To be continued…
After graduation, many struggle with the transition to working life. We feel trapped in a demanding job with student debt and burnout symptoms looming.
A full-time office job will slowly suck the soul out of your body. Here's why you should experiment with self-employment, or you will be stuck working for a boss until you retire.
Becoming a digital nomad has become extremely popular. In this first part of the series, we explain why the interest in digital nomadism has skyrocketed.