Over the past year, I earned €36,262.79 (about $40,000) in 358 hours. I have no staff and can work entirely online; all I need is a laptop and a good WiFi connection. My job is to create subtitles and translations for videos and I worked most of last year from the tropical island of Bali. Does this sound like an ideal job to you? In this article, I'll explain how I set up my business and how you can also achieve this yourself.
How I started out
Freelancer on Fiverr
Before I started my one-man business, I started working as a freelance translator during my college days. I didn't study languages, merely Business Administration and Marketing, but I was reasonably good at English and my native language Dutch.
On Fiverr, I created a profile and began offering my services as an English-Dutch translator. Soon I was offered some small gigs, from translating a few blogs to a 37-page eBook and an entire comic book. It was fun to do and got me some pocket change, but at only $0.02 per translated word, my hourly wage amounted to $15. (if I was lucky)
With that, I could immediately see the downside of working on a platform like Fiverr. On Fiverr you are competing with hundreds, if not thousands of translators from different countries who all charge competitive rates. As a European, I can never charge the same rates as someone from India or North Africa, because our costs of living are so much higher. Plus I had to pay a 20% fee plus payment processing fees on all my gigs. So freelance assignments through Fiverr could never become my only income, or I would have to work my ass off for 40 to 60 hours a week.
On top of that, I saw that professional translation agencies in the Netherlands charge 5 to 7 times more for their translations than I do with my $0.02 per word. So I thought, "if I'll sit somewhere in between in terms of price, surely I should be able to attract clients in the Netherlands". After a quick calculation on a notepad, I decided that at €0.07 per word, I ought to be quite happy.
Starting a One-Man Business
But in my comparison of translation agencies on Google, I also realized right away that there was tremendous competition. At the top of the search results were 3 ads and also the entire first page of organic hits were full of professional translation service providers.
How could I ever stand out among these professional companies?
What more could I offer than them?
Then it hit me. My sister-in-law works for a TV production company where they make shows for television. Occasionally the audio is not intelligible or in a different language, and they put subtitles at the bottom of the screen to make it easy for the viewer to understand.
This gave me an idea: what if I specialized in making subtitles?
Curious to find out what the competition was like for this niche, I did another Google search for subtitling service providers. The first three results were big names that mainly worked for TV, but below that it was just blogs and tutorials on how to make subtitles.
There was no agency that focused on online videos. I found myself looking at an opportunity in an underserved market.
Learning a New Skill and Building a Website
At this point, I had never made subtitles, nor did I know exactly how they were made. So I just clicked on one of the tutorials on how to make subtitles on YouTube. It turned out to be something that was easy to learn with a flat learning curve.
I knew that one of my neighbors has her own YouTube channel about beauty products and so I asked her if I could use one of her videos to give it a try. I turned on a stopwatch and measured how much time it took me to subtitle the 9-minute video that she sent me. Based on this information, I was able to calculate approximately how much I could charge as an hourly rate.
I discovered that there is free, open-source software for creating subtitles (Aegisub or Subtitle Edit), which was more suitable for my business than adding the subtitles in YouTube. Using WordPress and WooCommerce, I promptly started building a website with a webshop on which I could offer my services. All in all, I was down a few hundred dollars for a WordPress theme, some plugins and hosting, but now I had everything I needed to start my business.
Then on April 1, 2017, I visited the Chamber of Commerce to officially establish my business in the trade register. Texcited.com was born.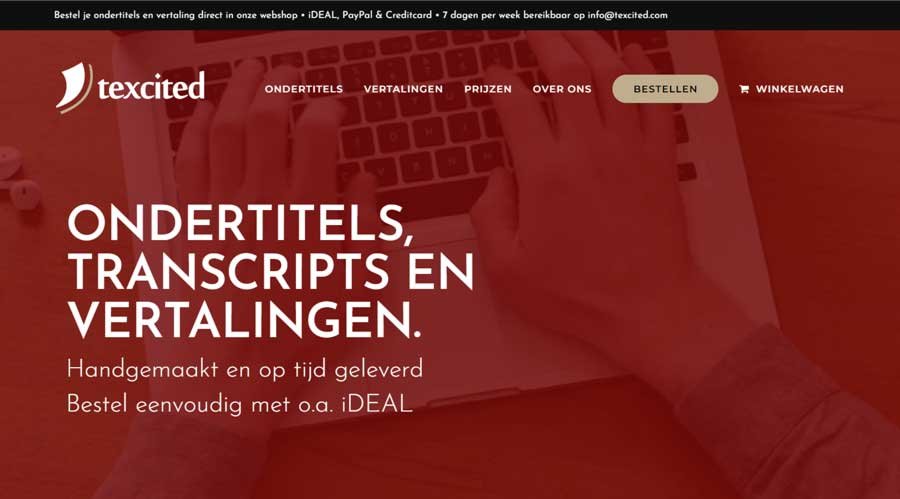 How I differentiated myself from my three competitors
Transparency
One thing I found bizarre, is that none of my competitors mentioned prices on their website. If you want to know what the cost is to get subtitles for a 10-minute video, you have to fill out a long questionnaire with all kinds of technical details of the video (file format, resolution, number of fps) and then they send back a quote within 1 to 2 business days. So that's what I did, with a fictitious 10 minute video that I would like to know the prices for. I only got 2 quotes back (the third company apparently didn't want to make money) and I was shocked at the total amount: they all asked at least three times as much as I expected. Maybe that's why they are afraid to list the prices on the site 😉
I found the whole process of just knowing the price very discouraging. If a shoe store implemented the same thing, where there is no price tag on the sneakers, but you can ask the store owner via email for a quotation, no one would buy their shoes there.
So I decided to do it completely differently on my website. The order form has you select what language your video is, what language the subtitles should be and how long the video is and then it dynamically calculates the price. So you can see within 30 seconds how much it costs to have your video subtitled.
Subsequently, the visitor has the option to place an order and pay straight away via online banking. When an order has been placed and paid for, I receive a confirmation via e-mail with videos that need to be subtitled. This whole process has become so easy that I don't actually need to have any contact with the customer at all. That way I spend a lot less time on customer contact.
Low costs
Compared to the competition, I can keep my costs much lower. My three major competitors all have large offices near TV studios in the Netherlands (Hilversum and Amsterdam). I have no office and work from home, the library or a nearby cafe. Thus, I have no costs for office rent, office support staff or commuting expenses.
But the biggest hack for keeping expenses low is to put my laptop in a backpack and work from another country. In Southeast Asia, life is many times cheaper than the Netherlands, so I spend much less money on living expenses. Rent, electricity, food and drinks; it's all much more affordable. Moreover, you seem to get more for the same money; for $1500 a month you can stay in a villa with a pool, cleaning lady and gardener, eating all your meals out every day and having money left over for trips.
Using tools to attract customers
As a single individual, it is difficult to compete against an established name with dozens of employees. That's why you have to be smart(er); we all know the story of David and the Goliath. But instead of a rock and a slingshot, I use online tools to beat the giants.
LinkedIn
On LinkedIn, I updated my profile with my newly learned skills as a subtitle creator and put down promotional texts for my website. Then, using the tool Dux-Soup, I automatically visited other LinkedIn users who have like terms like "videographer, TV producer, YouTube channel" in their profiles. Some of them I was able to send a message through LinkedIn, asking if they ever needed a subtitling service.
Cold Emailing
Similarly, I got several clients through cold emailing. Sometimes I would find a contact page on video makers' websites with the email addresses I needed. When doing this, it's smart not to email the company's general email address (i.e. info@company.com), but to search until you find the person you need to get to. In my case, the emails didn't need to reach the CEO, but rather the videographers or social media department. A useful tool for finding email addresses of specific people within a company is Hunter.
My emails looked like this:
Hi [first name],
I saw that you are working at [company] as [position]. Did you ever need subtitles for one of your videos?
If so, my agency can provide these subtitles for you.
Kind regards,
Daniel Koster
Texcited.com
Tools to Improve Productivity
To make the job itself easier, I use the free translation tool DeepL to help me with translations. This translation engine is much better than Google Translate and pays more attention to the context in which the sentence is placed. You can also easily select synonyms for certain words and the whole sentence will adjust itself to keep it grammatically correct.
For my financial administration, I use a bookkeeping tool called Moneybird (for the Netherlands and Belgium only), which allows me to easily send invoices, view my finances, and file tax returns. At $12 a month, it's a lot cheaper than an accountant.
"What a computer is to me is it's the most remarkable tool that we have ever come up with. It's the equivalent of a bicycle for our minds."
~ Steve Jobs
Advantages of my business setup
Fully Remote
I can work and travel at the same time. Being able to work online allows me to combine my hobby of traveling with work, while keeping my costs down. Generally employees need to take time off to enjoy a vacation. A trip to Asia then becomes incredibly expensive, as you have to pay double rent (your own home and your stay there) and have no income during your leave.
Over the past years I have worked from Bali, Thailand, Vietnam, Taiwan, Portugal, Spain, Hungary, Switzerland, Austria, United States, Canada, as well as the Netherlands. Especially those first named countries are comparatively cheap to live in. Also, in Southeast Asia they have good internet — better than in the United States or Hungary — so working from there was pretty convenient.
Async
Asynchronous (async) work means that I can arrange my work tasks according to my own schedule. There is a disconnect between when an order comes in and when it needs to be finished. In this way I can organize my own time.
Also I let my clients choose from a set of proposed deadlines via the website, based on the length of the video they want subtitles for. When an order comes in, I have plenty of time to schedule the job sometime in the next few days. This makes for much less stress. Plus almost all communication is done via e-mail, which means that I don't have to answer immediately.
In my opinion, async work is a prerequisite when you want to work remotely in a different time zone. So you need to be allowed a certain degree of freedom by your employer or arrange it yourself in such a way that your clients don't expect an instant response.
The time difference between my clients and myself in Bali was 6 or 7 hours, depending on daylight savings time in the Netherlands. Without async work I would need to start working in the afternoon and only get off around midnight. With async work I can decide to do some work in the morning while all my clients are still sleeping.
So for the most part, I work when I feel like working. And I can do that because I only work one hour a day on average.
Time for other projects
I work an average of 7 hours a week. The rest of the week I can spend on other projects that don't necessarily have to bring in money. This is perhaps the greatest freedom I experience.
I track my time very meticulously with a tool called Boosted (Android only). Here you can see exactly how I divide my time and how diverse my weeks are.
I spend a lot of time on FreshSaga, the blog you are reading right now. I also built a website that lists the best flexible workplaces called LeaveMyDesk. I've also started immersing myself in game development with Unity to eventually release mobile games.
Higher productivity = Higher income
Now that I have my own business and website, no one else stands between me and the client. There is no middle man. Therefore, an increase in my productivity has a direct impact on my hourly wage.
So in four years time, I ended up working at about 3 times faster, which makes me earn 3 times as much per hour as well. I would never get a pay raise like that from any employer, not even in 20 years.
How can YOU also work only one hour a day?
When I tell people that I only work one hour a day, they just often look at me funny or don't believe what I say. It sounds like it's too good to be true. Then I show them my time tracker and they can see for themselves that I only spent 358 hours on Texcited between July 2021 and June 2022.
It goes against everything people typically think of when they think about a job. As an employee, most have to work 24 up to 60 hours a week to also make $3200 a month. After all, the employer just offers a market salary and expects you to work X number of hours. If you work twice as hard as your colleague during those hours, you have made your boss very happy, but you won't see any of that on your paycheck.
Another response that I often get is that it is not possible in their line of work. And that is often true at first sight. But the Internet offers so many (new) opportunities to start a one-man business. The COVID pandemic has taught us that you can do any office job remotely. In this article about digital nomads you can get a lot of inspiration about the different jobs you can do online.
My advice is to start for yourself as soon as possible and let companies hire you. You don't have to jump into the deep end right away and make the switch to entrepreneurship in one go. Start off by working less and build your own business at the same time. You are handing in a bit of security for the opportunity to work more flexibly and grow exponentially.
It is never too late to start.
Pieter Levels is a guy who single-handedly built a couple websites that generate over $1 million dollars every year. To this day, he is still running these websites mostly by himself. In the podcast he not only talks about how he started his successful projects, but also about his failures.
Being a digital nomad almost sounds like too good to be true. Traveling the world while taking your work with you. What are the downsides and benefits?
Interactive Exercise
Do you know how your future looks like three years from now? This interactive assignment will help you visualize the life you desire.