Everyone has the power to achieve peak performance and excel any task. And it's much easier to achieve than you might think. The key lies in quieting the internal dialogue that hinders us from performing at our best.
We tell ourselves what we are capable of and blame ourselves for errors. In doing so, we set the upper limits to our performance, and these limits are far lower than our actual potential. This article will help you change the story you tell yourself and unlock your full potential.
The Inner Game
Everything in life is a game.
Whether you play a game of tennis, aim to get a promotion at your job or try to improve your relationship; they are essentially games that require you to perform.
Every game is composed of two sides:
The Outer Game, where the player plays against an opponent.
The Inner Game, which happens inside the mind of the player.
The Outer (Physical) Game is characterised one or more players on a playing field, with set rules and obstacles to face and a desired outcome. The Inner (Mental) Game is played against internal obstacles, like lapses in concentration, nervousness, self-doubt and self-condemnation.
The Outer Game (players, rules and objectives) might change, but The Inner Game (struggles with anxiety, loss of focus and self-doubt) is common to every new challenge we face.
The mental aspect of all these games often go unnoticed, but mastering The Inner Game is vital to mastering The Outer Game. And it so happens to be that The Outer Game is a powerful way to practice The Inner Game.
"The longest journey is the journey inward."
~ Dag Hammarskjöld
Self 1 vs. Self 2
How Self 1 Hinders Performance
Humans have two selves: the conscious Self 1 and the subconscious Self 2.
Self 1 is the brain and writes instructions. Self 2 is the body that performs.
Whenever we get frustrated with ourselves, Self 1 is getting angry at Self 2 for doing something wrong.
"Come on! Why are you playing so badly today?"
"Why am I such a coward?"
"Why do I clam up every time I speak to an attractive woman?"
"I'm not good enough to win, I was born a loser."
These frustrations come from not using our selves the way we should. Most people try to do everything with Self 1. Self 1 is very good at analyzing, making judgments, remembering stuff, and solving complicated problems. We like to see this as the rational part of the brain. Self 1 is an excellent planner, but is not in charge of what you are doing at this very moment. Self 1 cannot do.
Self 1 determines what is right or wrong, and is critical of everything Self 2 performs. There is a mistrust in the subconscious mind's ability. Hence, the rational part of your brain thinks it has to give a whole set of instructions to prevent Self 2 from going off track. This hinders Self 2's freedom of movement and inventiveness.
Whenever Self 1 takes over when performing, you start trying too hard.
It starts telling Self 2 what to do, and activates the body in unnatural ways. Your muscles become tense, your movements become stiff, and your actions forced. As a result, you make even more errors.
A little niggling voice in your head creeps in. You start to doubt your own abilities, become insecure and nervous, take all the blame for errors and end up sliding down a negative spiral.
You are not even fighting against an opponent anymore, but against yourself. You become your greatest enemy.
"The opponent within your own head is more daunting than the one on the other side of the net.''
~ Timothy Gallwey, The Inner Game of Tennis
Putting Self 2 in Charge
Self 1 has a habit of coaching Self 2 from the sidelines, but generally does more harm than good. If you can prevent Self 1 from becoming a threat to yourself, your performance will be positively affected. Therefore we need to address the internal dialogue and let both brain parts do what they do best.
Self 2 is the one putting in all the effort. Unconsciously and seemingly automatically, Self 2 can respond to what's happening right now. It uses all your senses and utilises all muscle memory you have built up over the years. It can make decisions in a split second and sometimes finds solutions that the thoughtful Self 1 never imagined.
When we learn to trust Self 2, we can then achieve better results with less effort.
How to Achieve Peak Performance
What is Peak Performance?
When a player is at his best, he seems to play automatically. Movements come naturally and effortlessly, and he/she feels at one with the experience. Regardless whether 50,000 people in the stands are watching every move, the player seems completely absorbed in the game. The player is in a state of flow.
These moments are called peak performances. Peak performance occurs when you perform to the best of your ability.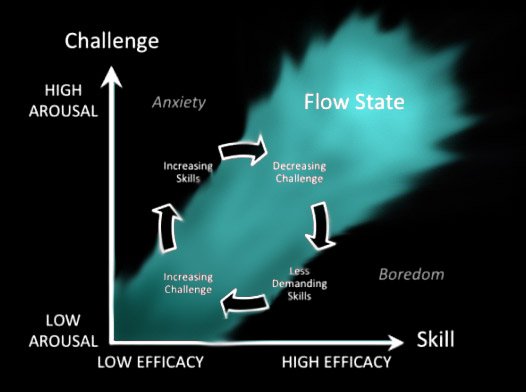 Performance = Potential – Interference
Every professional athlete, and most amateur ones, already know how to perform. They know perfectly well how to swing a racket, shoot a basketball, jump over a hurdle or run a marathon. Potentially, they can all set a personal best. The difference between that potential and actually performing to the best of their ability, is everything that can go wrong in the communication between the brain and the body.
All it take is a little bit of self-doubt, a misjudgment or the fear of failure, and suddenly your performance is greatly diminished.
"It's not that I don't know what to do, it's that I don't do what I know!"
To perform to the best of your ability, you should let Self 2 take care of performance.
If you notice that your Self 1 is interfering with the performance of a task, you need to shift your attitude towards Self 2. Instead of giving directions, criticism, mistrust and verbal instructions, Self 1 should learn to be respectful, trusting, and supportive through visual cues.
Self 1 must communicate with Self 2 through visualization; with images instead of words. As with any learning process, images are better than words when it comes to explaining something. Showing is better than telling. Self 1 should visualize the desired outcome and then let Self 2 handle the execution. This requires a certain trust in the competence of Self 2.
How to Train Your Mental Game
You can work on the mental aspect of any challenge by working on the following three skills:
Not judging
Letting go
Concentrating
Not judging
Imagine a tennis match between two players (you and your opponent) and an umpire on the side of the court. After a powerful stroke, you see the ball bouncing just outside the playing field. You are disappointed with losing the point, but simultaneously your opponent is delighted with your incompetence. The umpire, on the other hand, does not care at all who won the point. He only calls out the error (out!), says the score aloud (Love – 15) and waits for the next serve. Notice that the umpire will never tell you that a shot is good or bad, but simply states his observation: in or out.
When it comes to being non-judgmental, you must be like the umpire.
Avoid judgments – both negative AND positive.
Many books and coaches would tell you to replace negative thinking with positive thinking, but positive thinking isn't necessarily better. Even compliments are a form of manipulation by Self 1. By praising yourself, you set a benchmark for future performance, which produces expectations and therefore stress and pressure on Self 2. Self-assessment takes you out of your state of natural performance and puts you in your judgmental mode.
Furthermore, Self 1 has a tendency to collect these judgments and present them to you at the worst possible moment.
"Hey, remember the last time you sucked this hard?"
A single occurrence of negative thinking would not be that bad. But judgements often spiral into generalisations:
"I played a bad shot" → "I'm having a bad game" → "I'm having a bad day" → "I'm a bad player"
Your mistake is then no longer an isolated event, but marks a pattern that is characteristic of who you are as a person. Being a bad player is now part of your identity (more on that later). When you get into this negative spiral, it takes a lot of effort to get out.
Players who carry a lot of negative self-judgement, start this cycle before they even walk on the court.
Letting Go
A prerequisite for performance is, quite ironically, letting go of the desire to perform. The secret to winning any game lies in not trying too hard.
You should be as encouraging to yourself as you would be to a baby taking its first steps. You would cheer him on as he tries to do multiple steps in a row, and wouldn't blame him when he tumbles over. You know that pointing out his incompetence could put him off from trying again, so you would be supportive and encourage him to try again. And it's only a child! You can not expect him to come out of the womb and run a marathon.
You are not any different when you pick up a new sports, new hobby or new challenge. You cannot expect yourself to take all the required steps flawlessly and in one go. If you want to succeed, you need to keep trying. In order to keep trying, you need to let go of the outcome.
You should not play to win, but play to learn.
Concentration
Perhaps the most important skill to have in this ever-changing world is to remain calm. Inner calmness and stability is achieved not by burying your head in the sand whenever you see danger, but by acquiring the ability to clearly observe what is happening and act appropriately. Stability grows when you accept what you cannot control and take control of what you can. It saves a lot of energy to concentrate only on what you can influence.
Self 1 has the ability to direct your attention. But usually he works at such a fast pace that it remains mere flashes of thought. In that respect, he is like a kid in the sweet shop, quickly distracted and running from one side to the other.
You can train Self 1 to deliberately shift its attention and keep its concentration longer. This is what mindfulness aims to do, which is something that can be practised through meditation.
How to Program Self 2
Much of this article was about silencing Self 1. But the rational, conscious part of your brain has enormous computing power and is excellent at making long-term decisions. We should not leave this brain power untouched.
The primary role of Self 1 is to set goals for Self 2, and then to put Self 2 in charge of the performance. There are three ways in which Self 1 can program Self 2:
Outcome-based programs
Form-based programs
Identity-based programs
Outcome-based programs
Programming for outcomes means focusing on your desired results.
This is the most common way that people set goals. Most people begin the process of changing their habits by focusing on what they want to achieve. They would write down New Years' Resolutions, put some post-its on their MacBook or tell their friends about their goals for the future.
These goals can vary greatly: losing weight, publishing a book, winning a championship.
But the thing is: everyone in the championship dreams of winning the championship. If there are 100 contestants, 99 people will be left with disappointment.
For some, goal setting works. But for many, it is a suboptimal way of improving yourself, and actually leads to frustration. Programming hard objectives puts pressure on your shoulders, whereas the outcome is usually not entirely within your control.
Form-based programs
Programming for form is concerned with changing your habits.
Think about the processes that make up a task. For example, in playing tennis, think of the motion of your swings. There are numerous ways to hit a ball – forehand, backhand, overhead; with spin, speed, subtlety; close to the net, far behind the baseline. You can practice all these movements; both theoretically (by visualizing) and practically (by actually doing it).
Professional tennis players have spent ten thousands of hours on perfecting their form. They refine their strokes every day, looking for the perfect way to hit a ball in any given situation. You can adopt the same principle for the challenges that you face.
Determine when you are most productive and create an environment that lets you thrive. Think of a new training routine, decluttering your desk for a better workflow or finding a different person to spar with. Perhaps you can think of new ways to collect all the things you've learned. Let Self 1 create a system in which Self 2 can perform optimally.
Identity-based programs
Programming by identity is the deepest level of behavioral change. This level is concerned with changing your beliefs: your self-image, your judgements about yourself and your worldviews.
Whenever you judge yourself for playing badly, you play worse and playing badly becomes part of your identity. This negative self-image becomes an anchor. Every subsequent time you lose, you attribute the defeat to the fact that you are a bad player.
Instead, you should do the opposite. Think about the role you should play in order to win your game. Imagine that have the potential to be a world champion. Then play the game as if you are the player who you aspire to be.
It is a principle that is much more ingrained in the United States: fake it 'til you make it.
You will find that your performance will improve considerably and you will exceed your expectations. And yes, you will still make mistakes, but you know that you will not become a world champion overnight. You are still at the beginning of the journey, and you are proving your new identity with small wins.
The Power of 1% Improvements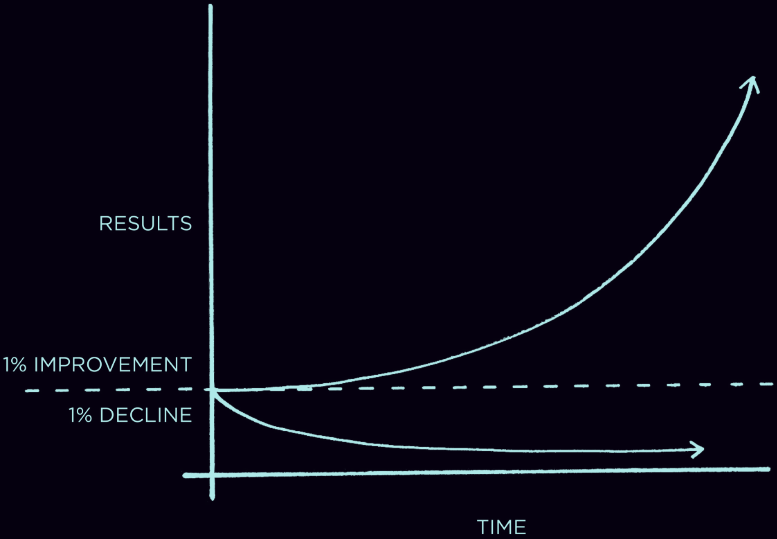 If you can get just 1 percent better each day, you'll end up with results that are nearly 37 times better after one year.
Change Your Identity and Results Will Follow
Many people begin the process of changing their habits by focusing on what they want to achieve. This will lead to outcome-based habits. The next level would be focusing on how they want change, which is about changing form. The deepest change can be found in identity-based habits, by focusing on who we wish to become.
Focusing only on results is very hard to maintain, because it takes a lot of energy and will eventually exhaust you. If you want to get better at something, changing your identity is far more important than getting great results quickly. You're better off making small 1 percent improvements towards your desired identity.
Become the type of person who can achieve what you want to achieve. When you change your identity, results will follow.
The Inner Game of Tennis
by Timothy Gallwey
This book is about much more than tennis. It's about how to get out of your own way, so you can perform at your best. Timothy Gallwey has written a series of books on coaching and creating peak performances, through meditative and non-judgmental techniques. The main focus is always the dialogue between Self 1 and Self 2, and how quieting the mind will improve overall performance.
by James Clear
"The right art is purposeless, aimless! The more obstinately you try to learn how to shoot the arrow for the sake of hitting the goal, the less you will succeed.", Master Kenzo said. Zen plays an important part in Japanese arching. Only when you're mind's at peace, you will find yourself hitting targets with ease.
Interactive Exercise
Do you know how your future looks like three years from now? This interactive assignment will help you visualize the life you desire.