Every day I use the app Boosted to keep track of how I spend my time. I find it an excellent tool to gain insight into the way I divide my time. At the end of the day I can see how productive my day has been and whether I travel to Dreamland with a satisfied mind.
In this article I'll explain how you can use the app Boosted to track your time and increase your productivity. I'll also tell you what I've learned over the past year from having such precise insight into my allocation of time.
How do I divide my time?
I try to spend my time meaningfully. But my definition of meaningful is quite broad. In fact, spending 1 hour on exercise is just as important to me as spending 1 hour on work. For me, it's more about the distribution of time; how I spend my time proportionally.
After experimenting a bit to see what worked well for me, I ended up dividing my time into four 4 categories: Work, FreshSaga, Physical Exercise, Mental Exercise.
Below you can see how my time is divided: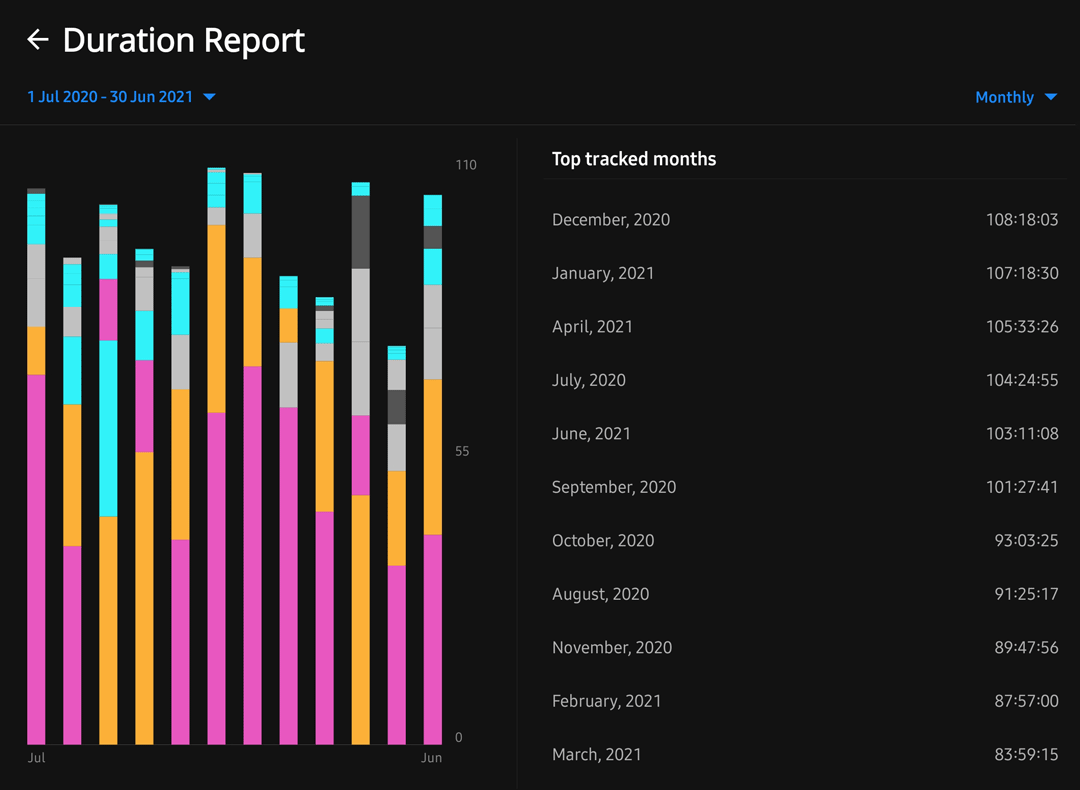 Gold is the time I spend working as a subtitle creator and translator.
Pink is the time I spend on FreshSaga.
Gray is the time I spend on Physical activities.
Blue is the time I spend on Mental efforts.
Physical activities are further subdivided into skateboarding, surfing and other forms of exercise. This is because I like to keep track of my skateboarding and surfing progress over time and see if I am dedicated enough.
Mental efforts are subdivided into even more subcategories. For example, I distinguish reading, writing rhymes, making art, taking notes, learning new stuff and meditation.
By picking the same gray color for physical and blue color for mental activities, I still get a visual overview of my allocation of time compared to work and FreshSaga.
What you can learn from tracking your time
Depending on what you decide to track, there are a variety of conclusions you can draw from simply tracking your time. You can make this insight even more precise by breaking down your work into categories and subcategories.
Here are a few examples of how time management can help you:
Identify which area of your life takes up the most time.
Set yourself goals for running practice, reading books, yoga sessions, or any other activity.
Check if you rest enough (between gym sessions, working hours).
See which activities you do easily for longer periods of time and which tasks you struggle to focus on for as little as 10 minutes.
Conclude which ratio of activities makes you happiest.
See the impact of a particular life event on your time allocation.
Create a weekly, monthly, or yearly summary.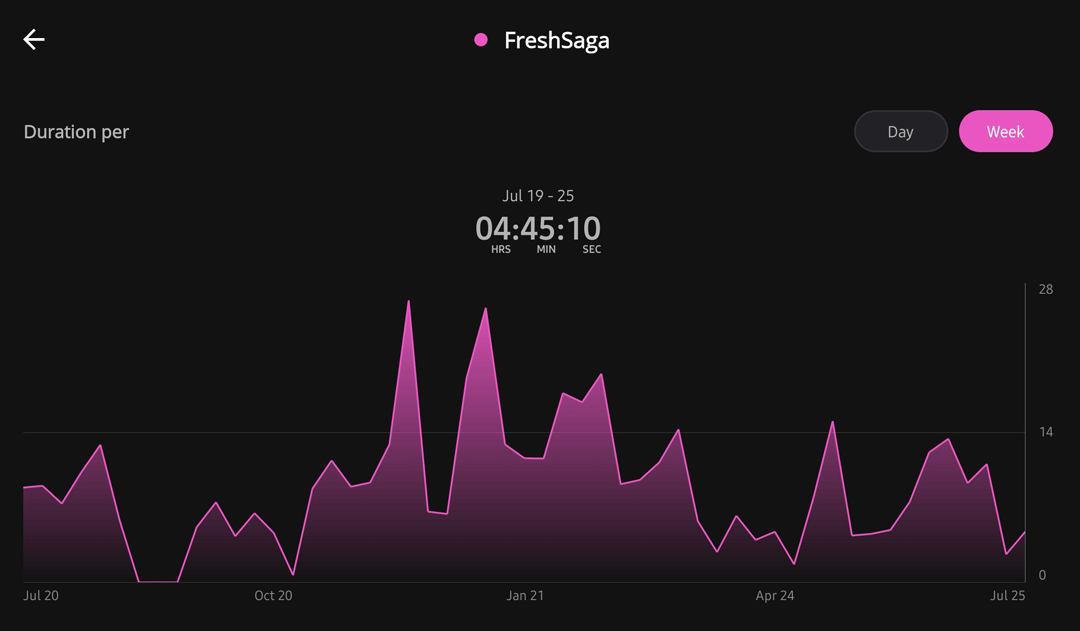 'Tracking my time has taught me how to balance my time in a way that fits for me.'
~ Daniel Koster
Hey, that's me!
Who can benefit from time tracking?
Time tracking benefits anyone who would like to be (more) productive.
For some, it is a godsend to keep up with their work-related tasks. But using time management only for a full-time job with a fixed work schedule… that might not be very interesting.
Therefore, time management is especially interesting for people who do a lot of projects. These don't necessarily have to be work-related projects. You can also consider learning an instrument, reading a book or training for a marathon as a project.
Flexible, yet s t r u c t u r e d
Before, I set exact goals for each month. On the first day of the month, I used to write down on a whiteboard how many hours I would devote to work, FreshSaga, exercise and learning something new. But there hasn't been a single month where I met all of my goals. Sometimes there would come up something unforeseen, but often I vastly overestimated or underestimated my working hours.
I run my own business in creating subtitles and translations and it's on a contract basis. Companies may knock on my door with any video or document and I'll make the translation or subtitles. So the orders and deadlines differ a great deal. The videos vary in length, from short Instagram posts of 1 minute to interviews of a whole hour. And right before the weekend, it is often busier with companies calling on me to make the deadline.
Use it as a tool, not a target
So it happens that I work 15 hours one week, and only 3 hours the next. This makes it very difficult to set a fixed goal for my work. Yet, when I reviewed the time I spent working at the end of the month, I was still disappointed that I hadn't achieved some of my other goals. This would make me feel bad for a couple days, and I think this is something you will run into as well.
Setting goals is incredibly difficult, especially if you want to predict numbers and the whole process is not within your control. You can practically only measure your input. But if your input relies on other people, you are not just measuring your own productivity, but also someone else's.
Go with the flow
So I decided that my time management will no longer revolve around goals. Instead, I will use time tracking as a tool to keep track of my flow and make subtle adjustments when it looks I'm heading off course. My focus shifted from numbers to proportions and for that I needed something better than a whiteboard. Luckily I found in the app Boosted the exact tool that I needed.
The app will ask you which projects you want to track. I decided that all the time I track must be useful, so I made a list of activities I think are important. Next to work and working on FreshSaga, the list included stuff like reading a book, meditation or even skateboarding.
This was a shift in my perception of time. I would see which tasks I felt doing and try to get as many productive hours done as possible. If I see that I'm not reading enough, I try to pick up a book more often. If it feels like I'm sitting still too much, I look at the numbers of physical exercise and it's instantly clear: I need to get back to roaring through a skate park like a daredevil on four little wheels.
In this way I try to balance my life, literally.
4 Rules for Time Tracking
I have a few unwritten rules I set for myself so that I track my time honestly and accurately. These rules make sure that your work hours are actually work hours and that you are faithful to your future self.
Start the clock at precisely the moment you start working.
Stop the clock at the moment you stop working.
Pause the clock whenever you get distracted.
Do one thing at a time.
Time tracking is an individual responsibility, there is no boss watching over your shoulder. You only have a responsibility towards yourself. So you need to play your own boss and try your best to track your time truthfully.
Now I hear you say:
Pfff, keeping track of everything will take way too much time.
So much effort to record every aspect of your life, I don't have time for that.
Pretty much everyone that hears about my routines tells me that it seems way too time-consuming. But really, it takes less than two minutes a day. You open Boosted and start the stopwatch when you start working. As soon as you stop, you also immediately stop the stopwatch. And yes, there are times when I forget to start the timer, but fortunately it's very easy to add activities retroactively.
What have I learned from tracking my time?
I have a very precise understanding of how I spend my time. Because I'm my own boss and work on a project basis, I don't have set work hours. Thanks to my meticulous tracking, I know up to the minute exactly how much I worked. When laid next to my accounting records, I therefore know exactly the ratio of my efforts and income. Despite the flexible nature of my work, I've been able to set the prices of my services so that I earn €100 per hour.
My time-tracking records in Boosted therefore give a better insight into my income than my accounting. Sometimes the date of an invoice ends up on the next month, while I did most of the work in the current month. This makes it look like I earned a lot in month 2, but realistically I did all that work in month 1. In Boosted, I can see exactly what day I did the work, and so I find that is a better estimate of what I earned.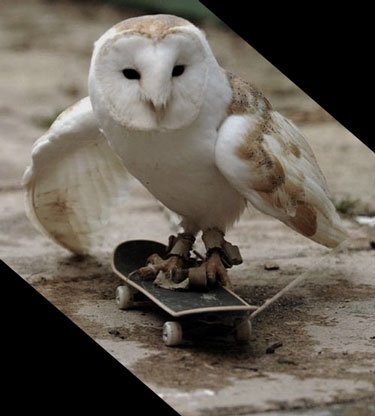 The night owl woke up
Despite seeing myself as a night owl, I noticed that my most productive days came when I got up early. Tuesday is a relatively quiet day, while Thursday and Friday are busier. And I am especially productive when a deadline is approaching. Also, when I zoom out, I can clearly see that the busiest period in terms of work falls just before Christmas, while in January and February there is very little to do.
Through Boosted, I saw patterns that were otherwise difficult to recognize. For example, I saw that after a long 2-hour skateboard session, I actually never became productive again. The physical exertion simply resulted in a lack of focus and concentration. That's why I decided to skate for shorter sessions on weekdays or to go later in the day.
Are you going to give time tracking a try?
You can download Boosted for free on Android devices. There is no iOS app as of now. But there are alternatives available for iOS, Windows and Mac. Check out Toggl, Clockify or Harvest.
by FreshSaga
You need to stop watching funny YouTube videos whenever you need to do something important. This guide will make you stop procrastinating within 5 minutes. Promised.
by FreshSaga
The most effective way of taking notes is by using a dictation tool. It will automatically convert your speech to text and helps you save time taking notes. Let your creativity flow and magically put words onto your screen.