Are you struggling to keep your habits? Are you losing track of all the books you've read? Do you always seem to forget your journal when you have a good idea? Are you figuring out how to structure your life in a way that makes sense for ONLY you?
Give Notion a try.
How to structure your personal development with Notion
What is Notion
Notion is an online tool you can use to document your life. You may have used apps before to write notes, jot down some to-dos or keep a journal. Think of Evernote, Trello or Google Keep. Notion is basically all those tools in one. You use it to gather your thoughts and ideas, keep track of your life goals, set better habits and give structure to your daily life.
The software is free and you can use it on your smartphone or browser. There are no limitations for personal use, but there are paid subscriptions available for businesses and teams.
You can use Notion to…
Keep a journal
Write down your thougths, ideas and poems
Track your habits
Keep a to-do list
Document your personality test results
Set-up your morning, evening and nutrition routine
Keep track of which Netflix series you've watched
Structure your book list
Create templates for daily tasks
The downsides of Notion
Has no stopwatch or time tracker feature
Can feel a little bit slow at times, maybe use a quicker app for quick notes
Could use more integrations with other apps, for example an API with support for Zapier, IFTTT or Google Assistent/Siri
Examples of using Notion for Personal Development
Notion can be a little intimidating at first. There are a lot of features. To create more advanced templates, you have to invest some time in getting to know the application. I wouldn't say it has a steep learning curve, because most basic usecases are really easy to pull off. But by experimenting a little bit with different blocks, menu structures and adding some colors, you can truly make it your own.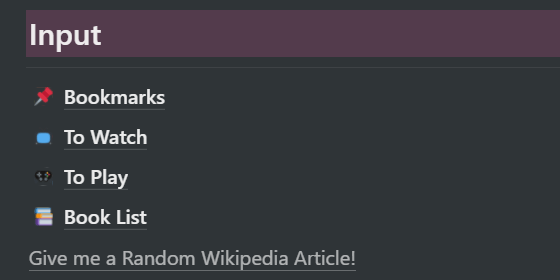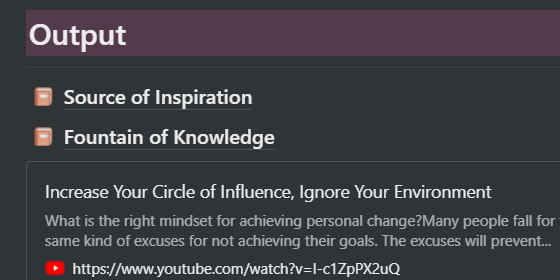 Write down your notes,
keep your bookmarks,
create your personal library
of series, games and books.
Optimize your daily life
by forming routines
and keeping an eye
on your meals and exercising.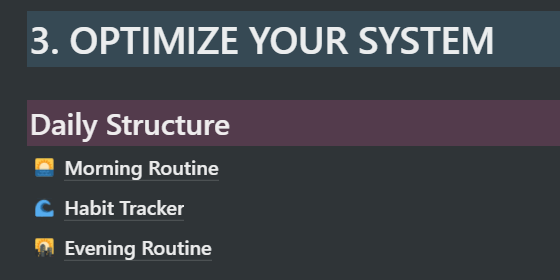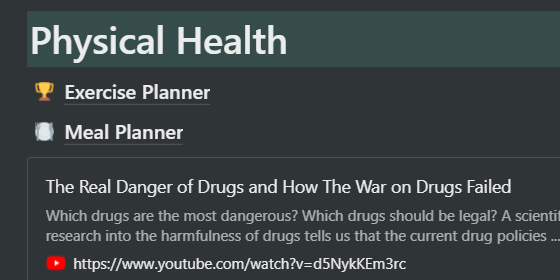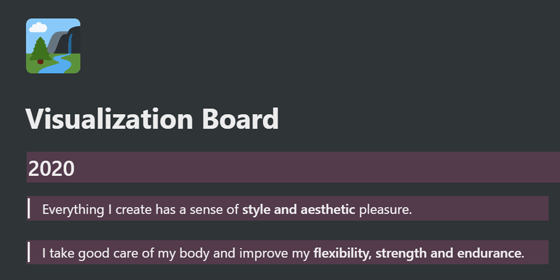 Envision a better future,
create clear goals
and start your day
with positive affirmations.
A Ready-to-Use Template for Self-Development
Now, if you want to save some time and start off with a ready-to-use template for Notion, check out the template I made for you. I've put in about 8 hours to make it and you can download it for $9. If you first want to see exactly what you're getting, you can check out the free preview.
How will this Notion template benefit my personal development
The Notion template offers you a sophisticated structure to document your self-improvement.
You can entirely customize to your own needs. You can put in your own habits, tasks, book list, visualization board and morning routine. Write down your thoughts and ideas and create your own fountain of knowledge.
🏝️ 2 Interactive Story Missions
Lost at Sea ➟ Self-Reflection Assignment
Gifted Compass ➟ Discover Your Personality
🖊️ Keep a Journal across devices
🧠 Write down your Thougths, Ideas and Knowledge
📃 Document your Personality Test Results
🌅 Plan your Morning, Evening and Nutrition routine
☑️ Track your Habits and Exercises
📚 Structure Your Library: Games, Books & Watch List
Buy for $9
My Experience with Notion
I've been using Notion for two years as a way to gather thoughts, create a daily routine, keep track of gym exercises, write down articles, scripts and notes for FreshSaga… and a whole lot of other stuff. Whether it is a YouTube video on my channel, one of the interactive stories, blog article or product description, everything started with putting the idea down in Notion. laying out the idea in Notion. I put all my words in Notion. I'd put down all my ideas in Notion.
You can easily share your pages with others, so you can collaborate on the same article, document ot ask others people for advice. And if you've created something cool, you can share your template, like I'm doing to you right now. If only you'd have $9 and an envelope. Or creditcard. Or PayPal. Or one of the other payment methods you can use to buy the ready-to-use template I made for you.
How can I download the template
To start using the template, you can buy the template for $9. A one-time payment, no subscriptions.
You will then receive a link to a Notion template. Click "Duplicate" in the top right corner of the screen to add it to your own Notion account.
Like darkness? Go to Settings & Members > Appearance > Dark Mode
Essential Personal Development Tips In Your Inbox
📺 Get a 3-minute insight bite
📄 Key ideas from 2 self-improvement articles
🤯 and 1 eye-opening quote
No advertisements. No spam.